Kit Builder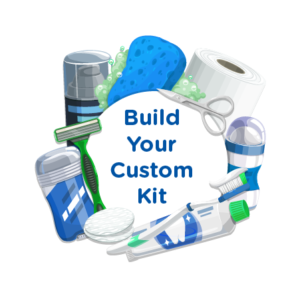 Whether you are making a kit to donate to the homeless, need kits for a camping group, own Airbnb's, small hotels, or are part of a community group, the custom kit allows you to pick your items without wasting dollars on items you don't need. Want some ideas to start with?  Look here at some prepackaged kits we have ready to go - Ready To Go Kits
Our custom kit builder tool helps you create your own custom kit by stepping through the each category of products.  It always begin with the type of bag you will need.  Do you want your items packed in a relcoseable plastic bag, a vinyl cosmetic bag, or even a pencil pouch.  Keep in mind the items you are planning to put in the kit when you choose your bag size. By default, a plastic recloseable bag will be chosen. And best of all......shipping is FREE
There is a minimum of 24 kits required for building a custom kit.
How does pricing work?
As you step through the categories and select items you would like in your kit, the total kit price will show on the right hand side of the page. Gone over budget? No problem, step back and delete that item.  Stay and play for a while until you are completely satisfied you have created the perfect kit.  Once you are satisfied with the items, go to the results page and review your choices, then add to cart.  Only 1 kit will be added to the cart and you can adjust the quantity on the cart page (remember, there is a 24 kit minimum).
Is there a minimum quantity?
We do have a minimum quantity of 24 kits for the custom kit builder.
How long will it take to make the kits?
It will take us a few days to assemble your custom kit once you place your order.  Of course, the greater the quantity of kits, the more time we may need.  On average, it will take 2-5 days to create your kit before we can get it out the door and on it's way to you.
How much is shipping?
FREE..FREE...FREE.  So pleased that we can ship all your custom hygiene kits for free. We know how hard it is to budget, so by providing free shipping, you know exactly what your costs are....no guessing!
Custom Kits are not returnable.